As one of the premier watch repair shops in New York City, one that specializes in Omega watch repair, we at Ron Gordon Watch Repair often get "deep into the depths" of our work. Having taken a watch apart, we're deep into its component parts, admiring the expertise and skill with which the Swiss makers put the watch together originally. Just as on the ocean (or on the East River for that matter), there's the surface and there's the deep depths. It's very profound.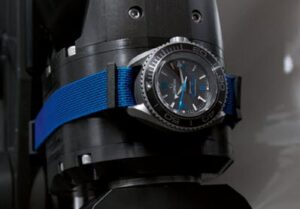 All of this made us think about water resistance and especially the Omega brand. Today's Omega watch owners want it all – they want a stylish, sporty Omega watch for their wrist, and they don't want to worry about it in the shower or should they go for a swim at the local gym. Water resistance is a key feature of these watches, and it's built in. In fact, it's more than built in. Omega is known for its expertise in "deep sea" water resistance. As an example, there's Omega's announcement of its new Seamaster Planet Ocean Ultra Deep Professional.  This watch went down with adventurer Victor Vescovo to the first manned expedition to the deepest point in each of the five oceans. According to the Omega (Swatch Group) announcement:
"When adventurer Victor Vescovo successfully piloted his submersible Limiting Factor to the bottom of the Mariana Trench in early 2019, the 10,928m dive set a new world record. Along for the ride – and performing perfectly at depth – was Omega's Seamaster Planet Ocean Ultra Deep Professional" (https://tinyurl.com/y42z36gk).  Omega goes on to explain that its journey towards being one of the premier Swiss brands for underwater diving (and hence water resistance) began in 1932, with the launch of the Omega Marine, the first divers' watch meant for everyone.  That watch was used by American explorer, Charles William Beebe, the American inventor who created the so-called 'Bathysphere.'  Omega, in other words, had hit on the formula of making watches that showcased their technological superiority but were, ultimately, built and accessible to anyone who loved luxury watches.
The Omega Seamaster Planet Ocean Ultra Deep Professional
Omega has built in some incredible engineering into this watch. For example, despite its incredible water resistance, the watch is only 28mm thick (!).  Its titanium grade 5 pressure hull required the development of a new advanced forging technique and an entirely weld-free construction. The bezel body, casebody, caseback and crown were machined cutoffs from the hull. These cutoffs bear the DNV-GL stamps, certifying the origin, characteristics and quality of the material.  For those who purchase one of these incredible watches, it should be noted that each model is marked for authenticity. Relevant information including the model, reference number, materials, DNV-GL certification, and the words – tested 15,000m / 49,212ft – are all laser-engraved.  If you're interested in learning more, don't miss the landing page for the watch on the official Omega watch website at https://tinyurl.com/yyn2szl8.
Finding Omega Watch Repair in New York City
Of course, we keep a keen eye on what's coming out new from the watchmakers, such as this new, incredible Seamaster from Omega. But new watches – generally speaking – don't break down. It's the older or even vintage Omega watches that bring people into our Midtown New York City watch repair shop. Perhaps they've purchased a used or vintage Omega and want to have it inspected, tuned up, or repaired. Or perhaps they were gifted an Omega watch from their parents or grandparents. After all, Omega's storied history means that you might have a watch from as far back as the 1930s. Well, if you do, bring it in for an inspection, tune up, and if needed Omega repair. If you're buying an Omega, you can also hire Ron to pre-inspect an Omega prior to purchase for authenticity and possible repair.
As the best-in-class Omega watch repair shop in New York City, we love the brand and look forward to seeing your Omega watch. We can even discuss the deep, deep depths of everything Omega!