We here at Ron Gordon Watch Repair love history. That's one of the key reasons why we're so passionate about watches; every watch tells a story – a story about that unique man or woman who owned it (in the past), and who owns it today, plus every watch model has a story (why the brand created it, when it was first launched, revisions), and then every watch brand itself has a story. Rolex and Zodiac are examples of watches that have all those elements of "story." Well, here's a story of two Watches – Zodiac vs. Rolex on their 50th anniversary and how both watches have roots in the Vietnam war and soldiers.
War, Men, and Watches
Our story begins when during the Vietnam war, soldiers were given the choice of watches to buy at the PX (the military stores operated by the US military worldwide). These watches were The Zodiac Sea Wolf or the Rolex Submariner.  The Zodiac was much less expensive (as is generally true today), coming in at about $80 and the Rolex at $300. Soldiers, being budget-conscious, of course, generally chose the cheaper watch. In fact, it became known as the "Poor Man's Rolex," though in terms of quality the watch was quite competitive. Both watches had some similarities (besides being marketed to men in the military). For one, they both used an oyster and jubilee bracelet made by the same USA-based manufacturer (Jacoby-Bender) located in Woodside, New York. That being in Queens, New York, it's not far from us here at Ron Gordon Watch Repair (our watch repair shop is located in Midtown, Manhattan, New York City).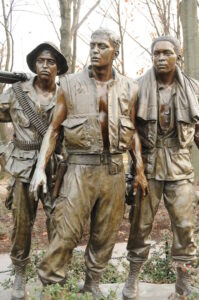 Old Watches Newly Available: Zodiac and Rolex
Here are some more details with the added "twist" that both watches are being re-issued (!). Rolex premiered its first divers' watch, the Submariner, in 1953. The Sea-Dweller, which followed in 1967, had a nearly identical design. But since it was made for professional divers, it had an even more pressure-resistant case and a helium valve developed by Rolex. Rolex released a new model in 2017 to celebrate the Sea-Dweller's 50th anniversary. It replaces the previous version, which debuted in 2014. And as for Zodiac, another iconic divers' watch turns 50; another watch brand pays tribute to it with a special anniversary edition, the just-launched Zodiac Super Sea Wolf 68 Limited Edition.The Zodiac Sea Wolf was one of the very first modern dive watches, debuting in the same year, 1953, as its more famous contemporaries, the Rolex Submariner and Blancpain Fifty Fathoms. The "Super" version, with a higher water resistance than the original, launched in 1968, which of course means that 2018 marks the model's half-century mark. And while Zodiac — a historic, traditional Swiss brand now owned by the Fossil Group — relaunched the line a few years ago, this new model, limited to 182 pieces in tribute to Zodiac's founding year of 1882, has several attributes (along with its obvious built-in rarity) that make it unique among its modern brethren.
Getting Your Rolex or Zodiac Repaired Here in New York City
If you're lucky enough to have an "original" Rolex or an "original" Zodiac from the 1960s, it may no longer be in working condition. Or perhaps it still works but doesn't keep perfect time. Or perhaps a friend of a friend of a friend has one and they want to sell it to you (but you're not sure of its authenticity, or whether it's in good working order). For these reasons, if you're looking for either Rolex Repair or Zodiac Repair, reach out to us. We can evaluate any watch and give you an estimate on what is necessary to bring the watch up to tiptop shape. After all, we're know as one of the top-rated Rolex and Zodiac watch repair shops not just here in Midtown or Manhattan, but throughout New York City as a whole.