We love Rolex watches. The brand has a history that is second-to-none. Among the most interesting watches produced by Rolex is the Rolex Datejust, first launched in 1945.  It was the first self-winding waterproof chronometer wristwatch to display the date in a window at 3 o'clock on the dial, and consolidated all the major innovations that Rolex had contributed to the modern wristwatch until then. More can be learned and viewed on the Rolex site, here.  It was also subject to a rather lengthy article in WatchTime, here.  Says that article by Jens Koch, "At the beginning of 1945, the Datejust was only available in gold. And this was also its 40th anniversary year, so Rolex named the metal bracelet developed for the Datejust the "Jubilee" bracelet. By the end of the 1940s, the company began producing the Datejust in steel, which was powered by the Rolex 730 automatic movement in these early years."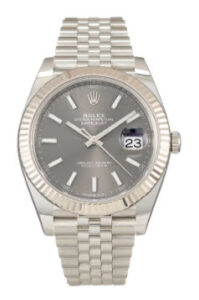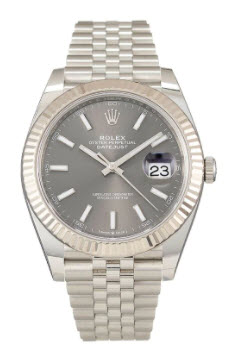 A Postwar Watch for a Postwar Era
So this is a postwar watch, built on the prosperity and enthusiasm of the years after World War II.  Thus there are both "new" and "old" Rolex Datejust watches out there. We see an assortment of them here in the shop. Many people inherit a Datejust, perhaps – if they are lucky – from a Grandfather or Great Grandfather who fought in the Great War. Others buy a Rolex Datejust on the very robust resale market; used or so-called pre-owned Rolex Datejusts are pretty expensive and cherished.
If you own or are considering purchasing a Rolex Datejust, here's a good idea. Call up Ron and arrange to have the watch thoroughly inspected and tuned up. Ron can get the watch back into near-perfect condition. Thus you can wear it on your wrist, proudly.
Another fun thing to do is to visit Rolex online and browse the current models.  That post explains some of the key features such as the following. First, there's the "Cyclops lens," named after the one-eyed giant of Greek mythology, the Cyclops lens magnifies the watch's emblematic date display two and a half times for easy reading. Behind the Cyclops, as with every feature of a Rolex timepiece, lies a history of invention, research and development, and the endless search for perfection. Second, there's Relesor, the auspicious meeting of two metals on a single Rolex watch: gold and steel, with their contrasting colors and radiance, in subtly balanced harmony. Finally, there's the fluted bezel. This is quite interested. As Rolex explains, originally, the fluting of the Oyster bezel had a functional purpose: it served to screw the bezel onto the case helping to ensure the waterproofness of the watch. It was therefore identical to the fluting on the case back, which was also screwed onto the case for waterproofness, using specific Rolex tools. Over time, the fluting became an aesthetic element, a genuine Rolex signature feature. Today the fluted bezel is a mark of distinction, always in gold.
Rolex Repair and Service in New York, NY
In summary, the Rolex Datejust contains a true historical story about this incredible brand – all in one watch. If you are lucky enough to own one, please reach out to us about our Rolex repair services right here in New York City. We're excited and happy to offer best-in-class watch repair services for the Rolex brand.