"Dive" is an interesting word. You can "dive" into a pool, or you can visit a "dive" that might be a down-and-out diner in one of the outer boroughs of New York City. You can also "dive" into a passion for Rolex watches. Just be careful with the Rolexes. Once you "dive" into the brand, you may fall so deeply in love that you can't quite escape. That's a good thing.  WatchTime recently "dove" into its archive and reprinted one of their best articles on the history of "dive" watches from Rolex.  We read it with enthusiasm, and here is our New York spin on the article.
First and foremost, Rolex conveys style. When most people think Rolex they think high-end, luxury watches not necessarily sport-oriented or dive-watches. This might not be correct, as the brand has a deep history (pardon the pun) in its relationship to deep-sea diving. But people think of Rolex watches as flashy yet stylish ways to announce that one has "made it." That's true and we see and repair many Rolex watches here in our New York City watch repair shop that are the high-end, flashy Rolexes. The kind of watches that one wears to the New York City Opera or perhaps anything at Carnegie Hall. But then there are the sports fanatics here in New York. Many of our clients have Rolex watches AND they are really into sports. They exercise daily; many are big swimmers or they work out at many of the high end gyms in and around New York (which are (finally) planning to reopen post Covid-19). Or they run in Central Park and enjoy outdoor activities.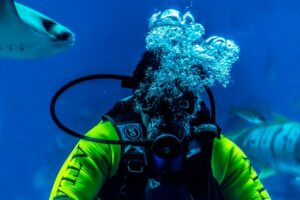 The Sporty Look from Rolex via a Rolex Dive Watch
A Rolex "dive" watch, as the article explains is ideal not just for diving but for combining a sporty look to your Rolex with the style that the brand conveys. Yes, they are water resistant to incredible depths. Yes, they have been used in many famous dive situations. As WatchTime explained, "Rolex currently produces four different dive watch models: the Submariner and Submariner Date, the Sea-Dweller and the Deepsea (listed here in order from lowest to highest in both size and price). The Submariner and Submariner Date share the same case size. Almost all watches in this collection offer versions with different materials, dial and bezel colors. The Submariner without a date indication is the entry-level piece and is priced at $7,500. Introduced in 1953, it was the first dive watch from Rolex. At that time, it had a bidirectional rotating bezel for measuring dive time. Initially, the Submariner was water resistant to 100 meters, but by 1954 Rolex had already increased this level to 200 meters. In 1955, the English Royal Navy began using the Submariner as its official dive watch and the Royal Canadian Navy followed suit the following year." You can also check out the Submariner page on Rolex.com at https://www.rolex.com/watches/submariner.html. Rolex's new generation of its Oyster Perpetual Submariner and Oyster Perpetual exemplify the historic links between Rolex and the world of diving. Both timepieces now feature a redesigned, slightly larger 41 mm case – whose profile is highlighted by the light reflections from the case sides – and are fitted on a remodelled bracelet. They are equipped with movements at the forefront of watchmaking technology – the Submariner with calibre 3230, unveiled by the brand this year, and the Submariner Date with calibre 3235, offering both time and date functions, and used in the Submariner range for the first time.
Older Rolex Dive Watches: Don't Let them Drown In Your Drawer
Finally, many of our customers bring their Rolex watches into our Midtown watch repair office for service and repair. We can even evaluate a "used" Rolex for you, prior to purchase to give you an estimate as to any repair costs and/or its veracity. The charges are reasonable and for these sorts of high-end watches, it can really be worth it. Many older Rolex watches are languishing in drawers and that's a tragedy. If you inherit a Rolex Dive watch, don't let it drown in your drawer. Call us up and let Ron give you an estimate on inspection and then, after that, any potential Rolex repair.