You can imagine that primitive people's were aware of time. The rising and setting of the sun is an obvious reflection of the universality of time. Sundials were perhaps the first timepieces; a sundial reflects the shadow of the sun across a circle, thus giving a visual representation of time. In fact, many historians argue that the measurement of time itself was critical to the rise of modern capitalism. Time is foundational to our society, and we think this is pretty cool.
Now, getting down into the day-to-day, we have to express admiration for a key brand – Rolex, and for a particular watch in the Rolex portfolio, the "Datejust." We covered some of its history in an earlier blog post, here, and you can browse an in-depth resource on Rolex.com, here. That post on the official Rolex page begins by showcasing the "Oyster Perpetual Datejust 31," which is described as follows:
Rolex presents four white Rolesor versions (combining Oystersteel and 18 ct white gold) of the Oyster Perpetual Datejust 31. The first watch, featuring a bezel set with 46 brilliant-cut diamonds, has an aubergine, sunray-finish dial that is adorned with a diamond-set Roman VI. The three other versions are fitted respectively with a mint green, sunray-finish dial, white lacquer dial, or dark grey, sunray-finish dial, and a fluted bezel in 18 ct white gold. The hands and index hour markers or Roman numerals on all four watches are in 18 ct white gold. The light reflections on the case sides and lugs highlight the elegant profile of the 31 mm Oyster case.
Another interesting resource on the Rolex Datejust is this timely article in Watchtime, entitled, "Perfecting a Watch: the Design Evoluation of the Rolex Datejust." Here are some key dates on the evolution of the Rolex Datejust: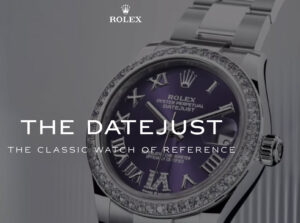 1945: Rolex introduces the Datejust.
1954: Rolex added the famous Cyclops lens magnifier for the date.
1957: new automatic movement 1064 introduced, allowing for a thinner case.
1965: automatic movement 1570 was selected.
1972: a hack mechanism is introduced, allowing for precise time-setting
1974: Rolex introduces a scratch-resistant sapphire crystal
1977: Caliber 3035 begins with a red anodized, friction-reducing wheels as well as an Osterquartz Datejust with a quartz movement (developed in-house)
1988: the watch  is powered by automatic Caliber 3135 with a balance bridge and an improved self-winding mechanism.
2009 / 2016: the 41-mm Datejust II and Datejust 41 was introduced
These are just a few date highlights in this "timeline of time," focusing on an incredible watch.  The watch is elegant yet simple, a best-in-class timepiece to help you stay abreast of time as needed. The bottom line is if you are interested in Rolex, you can do no better than the innovative Rolex Datejust! It's a bit of history on your wrist, whether you are lucky enough to have one of the first generations or whether you have subsequent editions of the venerable Rolex Datejust.
Repair and Service of Rolex Watches
We see quite a few Rolex watches in our watch repair shop in New York City. We love the brand. We see quite a few "vintage" Rolex watches. Often a person inherits a Rolex. Given the fact that the  earliest Rolex Datejust dates from the 1940s, we have even seen a few from the early models. Then, in the 1950s, 1960s, 1970s and up to the present date this iconic watch has been a constant favorite among Rolex lovers. Whatever kind of Rolex you may have, bring your watch in and let Ron give it a top-to-bottom estimate on recommended service and repairs as needed. If you're looking for the best-in-class Rolex watch repair in New York City, you can do no better than Ron Gordon Watch Repair!