Since 1969, fans of the TAG Heuer Monaco have meshed fine, luxury watches with a passion for fast cars as evidenced at the Monaco Grand Prix, held of course in the Principality of Monaco. Thus, we were excited to read in the latest edition of WatchTime, that is, their "test drive" of the new TAG Heuer Monaco Calibre Heuer 02. They wrote that "fans love its blue sunburst dial and contrasting silver counters, red hands, and square shape with its expansive sapphire crystal and faceted edges. The newest version, the TAG Heuer Monaco Calibre Heuer 02, our test watch, offers these same visual features, all of which TAG Heuer has continued to refine based on the earlier Monaco Calibre 12 model. The once-flat registers are now slightly recessed, giving the design more depth and interest" (https://tinyurl.com/a5e62dcp). According to the brand,  "The Monaco's provocative look represented a complete break with conventional watch design. Equally radical was its perfect water-resistance — a world first for a square case. More revolutionary still is its heart, the Chronomatic Calibre 11, the first automatic chronograph movement with microrotor" (https://tinyurl.com/yna3wnzd).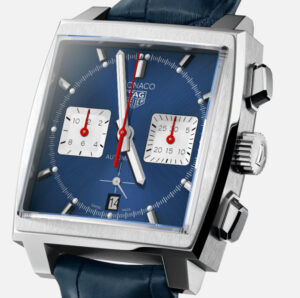 That's all exciting, and we're excited – always – to follow the news from TAG Heuer on this collection.  But let's talk about its style. First and foremost, it makes "square" the new "circle." Most watches are circular, but the Monaco is a square watch. That's unusual and that, alone, makes it stand out on one's wrist. The bold geometries are part of the watch – both in its vintage and its contemporary manifestations. You want a watch on your wrist that stands out. That's unusual. That says something unique about your own personal brand. Well, you can do no better than "being square."  TAG Heuer itself declares the watch a "timeless" emblem of "rebellious style," thus building upon the square features and its connection to over-the-top racing. Some editions (though not the 02), even position the crown to 9 o'clock, vs. the "traditional" 3 o'clock position. This shows that winding is no longer required. And retro-chic versions? They celebrate the metallic blue dial, red second hand and the play of squares: two chronograph sub-dials inside a square case. Thus the third feature that is striking – among some editions – is the blue color scheme, which mixes blues, reds, whites, and metallics for a play of colors on any wrist.
In the 02 edition examined by WatchTime, the once-flat registers are now slightly recessed, a fact that gives the design more depth and interest. It is this attention to slight modifications of detail that make each edition unique, and each edition a valuable collectible for people who love TAG Heuer as a watch brand!
Vintage TAG Heuer: Finding TAG Heuer Repairs in New York City
This brings us to the historical fact. The TAG Heuer Monaco has been out since 1969 and gone through several editions. That's actually a good thing as it makes the watch more collectible. These slight variations over the years mean that many men have more than one TAG Heuer Monaco. They collect multiple versions – both "vintage" and "contemporary." We, too, are lovers of watches and we see quite a few TAG Heuer Monacos come in for inspections, tune-ups, and even repairs. After all, we're known throughout New York City as the top-rated TAG Heuer repair shop. We are where the TAG Heuer "cognoscenti" come to get their watches repaired. That is, those who are smart enough to know that "square" can be the new (and old) "circle," that is "square" can be "cool," these lovers of everything TAG Heuer bring their TAG Heuer into our shop for needed repairs. Centrally located in Midtown New York City, we welcome anyone with a TAG Heuer in need of service or repair.