New York, NY – November 14, 2021. Ron Gordon Watch Repair, the New York City leader in TAG Heuer watch repair, is proud to announce a new post on the latest edition of the TAG Heuer Monaco. The exciting "square" watch brings an iconoclastic vision to luxury watches, building on a storied history since 1969 that combines sleek watches with fast races.
"Car racing and Swiss watches have a storied history, and so it is with the TAG Heuer Monaco," explained Ron Gordon, proprietor of Ron Gordon Watch Repair. "However, in our latest blog post we focus not on the storied history of the TAG Heuer brand and the Monaco Grand Prix, but rather on the stylish square design and color scheme that truly make this an unusual watch. Quite a few collectors of TAG Heuer watches have brought older, vintage TAG Heuer watches into our New York City watch repair shop for repairs. But we also see many contemporary versions. Each one is a thrill of unique styling."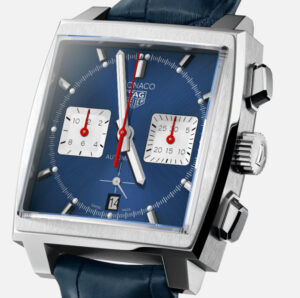 TAG Heuer fans who want to read the post can visit https://www.rongordonwatches.com/2021/11/square-circle-2/. That post summarizes recent articles in WatchTime as well as on the TAG Heuer website that explain what's new, and what's not, in this latest and greatest TAG Heuer Monaco. What is emphasized in the blog post, however, is how the unique "square" styling of the watch makes it stand out from among the crowd. Indeed, many men sport one on their wrist as a "conversation starter," whereby others can remark not just on the unusual shape of the watch but also its color scheme. The attention to detail makes this an incredible timepiece. Next, if desired, they can review the history of TAG Heuer and automobile racing, even up to some key movies that have been made over the years featuring the watch. The vision of Ron Gordon of these luxury watches isn't just as an end in itself. These watches are working works of art and serve as sparks to build community. One person who loves luxury watches can communicate that passion to others. Conversations and relationships ensue, making something as seemingly insignificant as a watch a spur to greater interaction.
TAG HEUER WATCH REPAIR IN NEW YORK CITY

Furthermore, the post explains that TAG Heuer is one of the most popular Swiss watch brands brought into the watch repair shop. The style of a TAG  says that one has "made it" just as the focus on automobile racing shows that one cares about "fast cars" and "excellent engineering." People who love TAG Heuer watches want the best of everything, and when they are looking for the best TAG Heuer repair in New York City, they often turn to Ron. Persons reading the blog post are pointed to the New York City TAG Heuer watch repair page at https://www.rongordonwatches.com/tag-heuer/ and encouraged to book an appointment to have their precious TAG Heuer inspected, tuned up, and possibly prepared by Ron Gordon.
ABOUT RON GORDON WATCH REPAIR
Ron Gordon Watch Repair is conveniently located at 280 Madison Avenue at 40th Street in Midtown Manhattan, New York City. The company specializes in the service and repair of high quality, luxury, watches, both modern and vintage, and repairs watches for those who wear the very best brands. The expert and namesake is Ron Gordon.
Contact:
Ron Gordon Watch Repair
Tel. 212-896-8999
Web. https://www.rongordonwatches.com/