TAG Heuer fans love technology, almost as much as they love history and the storied past of the TAG Heuer brand. Ditto for those who love Porsches.  The former was founded in 1860 in Switzerland, and the latter in 1930 in Germany. Both brands have a history of technology: the best of the best as the time and age dictate. That means fast cars and accurate watches. Nowadays, however, everything is "connected." This means that your watch talks to your smart phone, and your smart phone talks to your car. But what about your car talking directly to your watch? That would be a "new conversation."
Not surprisingly, therefore, TAG Heuer and Porsche have "teamed up" to bring a connected watch / car experience. The name? The Calibre E4 Porshe Edition. The watch features –
A bold black ceramic Bezel matching the black titanium case.
A black carbon finishing rubber and leather with blue stitching to endure any conditions.
A high-definition sapphire glass screen for ultra-legibility.
In addition, the car and the watch are "synergistic." That means style – an "icon in blue" using the same striking electric blue as in the iconic Porsche Taycan. That means the "allure of virtuosity", that is a "Porsche-inspired" 0 to 400 scale, and finally it's "luxurious on the wrist," with a rubber base for comfortable wear and black carbon leather strap.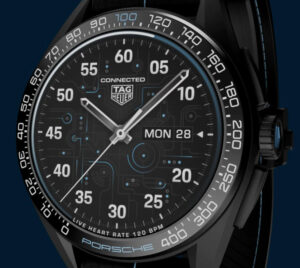 What can this incredible "connected" watch do? Well, first and foremost, "it's an extension of your own sports car on the wrist." That is – 1) you can manage your car temperature, 2) you can see your mileage on your wrist, and 3) you can see information on the car battery and miles to go. Plus, it's just cool to have a car/watch hybrid that has two famous brands – TAG Heuer and Porsche.
TAG Heuer Watch Repair in New York, NY
We follow the latest and greatest of all Swiss watch brands. Because we love watches, and we love the march of technology. There's always something innovative. Something new. Something stylish such as this joint announcement by TAG Heuer and Porsche. But for most of us, we own TAG Heuer watches that are more than a few years old. Perhaps we bought our watch a few years back. Perhaps we bought a "gently used" TAG Heuer on eBAY. Perhaps you inherited one from Mom or Dad, Grandpa or Grandma. It really doesn't matter.
But compare your TAG Heuer to your Porsche. Both age. Both are in use. Both have (many) moving parts. Both need regular service, including inspections and tune-ups, including repairs. Fortunately, Ron Gordon Watch repair is a certified TAG Heuer watch repair service center. We're conveniently located in Midtown and known as one of the top-rated watch repair shops not just in Midtown but throughout New York City, including Brooklyn and Manhattan.