Hamilton watches are considered, by many, to be works of art. Their motto is to combine an "American Spirit," with "Swiss Precision." These watches are mechanical masteries, yet like everything mechanical they require regular service. According to the Hamilton website post on authorized Hamilton watch repair, Hamilton recommends getting your watch serviced every 35,000 hours (e.g., four years). We are a Hamilton approved service center, with extensive experience and knowledge in repairing Hamilton watches. People visit us at our New York, NY, location, coming from nearly everywhere in the New York City metro area, but we also have service calls coming from nearly anywhere on the Globe, as people search for "authorized Hamilton repair" or "Hamilton watch repair" in New York, or "Hamilton approved." So many ways to get to the same thing: an expert in servicing and repairing your precious Hamilton watch.
Hamilton Recommended Watch Repairs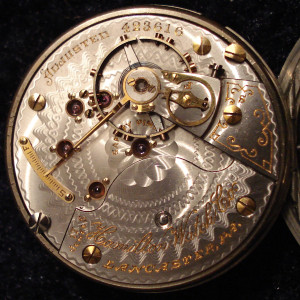 Just some quick comments on the official Hamilton recommendations on watch repair. Here are our recommendation to service your Hamilton watch on a regular basis:
Partial maintenance (whenever we change out the battery) – replace the gaskets using genuine Hamilton parts, return water resistance back to Hamilton factory specfications, clean via ultrasonic technology the case and bracelet, and conduct a final check of all watch components.
Complete overhaul – in this case, we are really servicing your Hamilton watch. We repair / replace any worn or damaged movement parts, adjust / regulate timekeeping back to Hamilton factory specifications, restore the water resistance to factory specifications, refinish the case and bracelet, and conduct a final technical inspection and 72 hour text.
Among the recommendations by Hamilton for authorized service –
Water Resistance – check regularly, as water is a major cause of watch problems.
Violent Shocks – in the event of a 'violent shock,' (e.g., significant dropping of the watch), have it inspected by a Hamilton watch repair expert.
Batteries – Hamilton batteries can last between two and five years; if the second hand begins to jump in four second intervals, that's an indication that the battery needs to be changed.
In terms of maintenance recommendations, the official Hamilton watch repair guide says:
Please note that like with any micromechanical precision instrument, HAMILTON watches should have regular maintenance. This keeps your watch in perfect working order and makes it last longer.
The frequency with which this maintenance work needs to be carried out depends on the model, as well as climatic conditions and the owner's care of the watch. Therefore we can not give a specific time interval for servicing. We generally recommend that a complete maintenance service should be carried out every 3 to 5 years.

To ensure that the service is carried out professionally, take your watch to an authorized HAMILTON Service Center or HAMILTON retailer.