New Yorkers may want things easy and fast, but a Swiss watch the caliber of a TAG Heuer inspires higher expectations than your average watch. Ron Gordon, proprietor of New York City's top Watch Repair, understands how to give your luxury Swiss watch the care and skill it requires
Changing a Battery in a TAG Heuer Watch
Replacing the battery in a Swiss timepiece is not considered a simple "battery change," but a "partial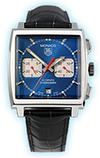 maintenance." This is key to understanding the preciseness of the task at hand. The craftsmanship of luxury watches like TAG Heuer, Breitling or Longines demand more than the average battery change. These watches need a certified watch expert who is skillful in professional watch repair.
Your Watch Repair Professional is Ready
A true watch repair expert will have made an investment in a clean and well maintained watch repair studio. This includes tools and machines that only an authorized watch repair master, like Ron Gordon, can offer.
In his Youtube video called: TAG Heuer Battery Change, How to Change a TAG Heuer Battery, Ron Gordon shares the level of care through a step-by-step process of changing a TAG Heuer Series 2000 watch.
A TAG Heuer Watch Repair Must be Dust-Free and Waterproof
During the partial maintenance process, a watch repair master will make certain dust does not settle on any of the watch pieces. Every step in the partial maintenance process is to ensure that the craftsmanship of the watch is preserved and its performance remains flawless.
Water damage and dampness to a luxury watch like TAG Heuer must be detected early and managed quickly. If your luxury watch face appears foggy, the repairs can cost you over half what you paid for it. A certified watch repair expert will test for water damage several times during the partial maintenance process. This is to ensure your TAG Heuer is crystal clear and completely waterproof!
As Ron Gordon says about the partial maintenance process, "proper service from a watch repair shop that specializes in luxury time pieces is the correct way, the only way, to care for your treasured watch." The time for a partial maintenance may take a few hours, but a professional watch repair studio can have your TAG Heuer on your arm before you attempt the end-of-day rush hour. Brilliant!