As one of the top watch repair shops operating in our fair city of New York, NY, we get a lot of questions. And we learn a lot about "how people think," or rather how people do not think. Among them is this whole issue of fixing a watch, more elegantly called repairing a watch, and then sometimes fixing a particular watch brand like fixing a Rolex. Words are funny things, and they can be ambiguous. For example, when someone says "Fix a watch" do they mean –
Get the watch fixed? Meaning, have it repaired by SOMEONE else?
Fix it themselves? Meaning, do-it-yourself?
Or, perhaps "fix it" on the cheap.
Fixing a Watch: Discussed
Let's look at these in reverse order. First, let's look at "fixing a watch" cheaply in New York. Do a little calculus here, or rather some arithmetic. Suppose you have a Rolex – either a classic Rolex or a rather new one. Regardless, a Rolex can set you back several thousand dollars – some in the tens of thousands of dollars. Do you really want to take your $10,000 Rolex to the closest, cheapest Rolex watch repair shop around the corner to get it "fixed?" Fixing a Rolex isn't so simple, and you want someone to fix that Rolex who knows a little bit about watch repair in general and Rolex watch repair in particular. In fact, you really want someone who knows a LOT about fixing Rolex watches, because the last thing you want is some "cheap" Rolex repair job that makes your problems worse, invalidates a warranty, or even ruins the watch – for example, by breaking seals and allowing water to penetrate the watch. So, this last option – fixing your watch cheaply – might not be so cheap after all. You know what the British say, "Penny wise, and Pound foolish." (Some Americans think we are talking about weight here, but we are talking about money – save a penny, but waste a dollar).
So fixing your watch cheaply in New York is great if you are looking to fix an inexpensive Timex, perhaps replacing a battery. But if that watch is one of the premier Swiss brands like Rado, Tag Heuer or Rolex, you don't want it fixed cheaply – you want it fixed well.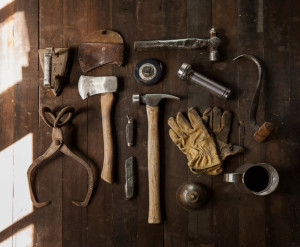 Now, let's look at #2 – fixing a watch meaning doing it yourself. I am all for "do-it-yourself" when it comes to painting your apartment, fixing your toilet, or knitting a sweater. Do-it-yourself, especially on home improvement, can be a lot of fun. But, if you paint your apartment walls wrong, you can generally just paint over them. And if you fix your toilet wrong, you can generally call a "real" plumber to have it fixed correctly. Even there, you run some risk of some downstream trouble, so to speak. So it goes with premium watches. Yes, you can fix them yourselves – well, for perhaps some simple functions like swapping out a battery. But, no, you probably cannot fix the more complex problems, yourself. Just like "cheap" watch repairs, fixing your watch yourself if it's a premium Swiss brand like a Rolex or a Rado, could mean a lot more trouble downstream up to and including ruining the watch beyond repair. You don't want to fix these type of watches yourself.
So that brings us to the third option. You might say "fix your watch" in NYC but what you mean is getting your watch repaired. By someone who knows what he is doing. By someone who is a recognized expert in watch repair. Will it be expensive? That depends what you mean, and what is wrong with the watch. You can bring the watch by and I can spend a little time, and give you an estimate. That won't set you back a ton… and then we can discuss what needs to be done to truly fix it. Even better, I can give you recommendations on how to care for your watch.
Bring Your Watch In To Discuss Your Repair (Fixing) Options
That Rolex on your wrist might be worth $10,000. Do you really want to nickel-and-dime it? I don't think so. So bring in your watch, and let me go over how to fix it right.