At Ron Gordon Watch Repair NYC, we understand there is an art to perfect timing. When considering a new luxury watch for that special gift, Baume & Mercier timepieces reflect the height of perfection and design. The question is, when crafting an artful timepiece like a Classima or a Clifton, what are the steps to achieving pure design and function? We thought we'd share a few simple facts on this topic.
Begin with the End in Mind
Yes, we took that from Stephen Covey, but it's a great intro to this paragraph. We know that artists and creative types don't always follow a straight path to their genius, but the commitment to the process is there. And commitment to the process is key. When Louis-Victor and Celestin Baume founded their watch shop in a Swiss village in 1830, their creed was simple; "Accept only perfection, only manufacture watches of the highest quality." The brothers quickly built a reputation for creating beautifully crafted timepieces with cutting-edge innovation and perfection. For example,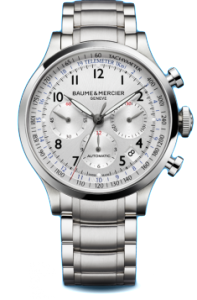 although the tourbillon movement was not their invention, they perfected it to the point that it was so precise, it would remain unmatched for over ten years.
Use a Perfect Template
If you took an art 101 lesson at some point you learned about the "Golden Ratio" (phi = 1.618). This design is a tool for perfect visual harmony. It was discovered in nature and has also been used to achieve perfect balance, beauty and harmony in art and design. Many of the greatest artists in the world have used the golden ratio such as Michelangelo, Leonardo da Vinci and Salvador Dali. When you view the Mona Lisa, you'll see the golden ratio pattern. When you view the face of a Baume & Mercer watch you'll see the phi symbol. This is a reminder to always strive for perfect balance in design and function.
Great Design can be Reinvented
Today's creative types take "artistic license" and frequently use ideas from classic artists to create something new. Quality watch designers do the same thing. Baume & Mercier's watch design studio uses historic timepieces from the museum of the Maison to create contemporary luxury watches. Baume & Mercier's Linea and Clifton Collection were both inspired by watch models from the 1950's – the golden age of the wristwatch . Great art is always an inspiration, even for luxury watches!
New York is not only a world-class city, but home to world-class art as well. When you are in town and plan to visit the Guggenheim or the MET, feel free to stop by our little watch repair shop first. We would love to see your luxury watch and give it a quick polish and repair checkup. If you have a Baume and Mercier timepiece, we'd be extra excited to see it. Once your watch is cleaned and repaired back to perfection, you'll be ready to enjoy the greatest art collections in style!
Ron Gordon,
Ron Gordon Watch Repair of New York, NY
http://www.rongordanwatches.com