We're passionate, of course, about Rolex watches, as Rolex watches are the #1 brand we repair in terms of volume, and certainly the #1 brand in terms of brand identity. But when it comes to luxury Swiss watches it's not either/or – it can be both and. How so?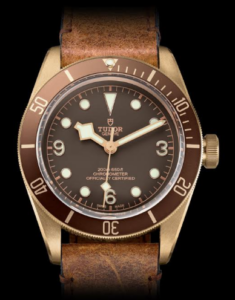 Well, we can love New York City and also love Florida – the one for its incredible urban life, the other for its variety as a state, and warm climate. We can love to eat oysters, and love to eat pineapples – it's not either/or, it's both and. And so it is with Rolex watches – we love them! And – we also love other brands of watch. Some are direct competitors like Tag Heuer, and others like Tudor are outgrowths of Rolex, closely assimilated in their history.
The Tudor Watch Brand: Out of Rolex
How so? Well, take a look at the Tudor watch brand, and its history, starting with this quote from H. Wilsdorf –
"For some years now, I have been considering the idea of making a watch that our agents could sell at a more modest price than our Rolex watches, and yet one that would attain the standard of dependability for which Rolex is famous. I decided to form a separate company, with the object of making and marketing this new watch. It is called the Tudor watch company." – H. Wilsdorf
This exciting Swiss watch brand gets its start, therefore, in 1926. To quote, "The first watches bear a simple TUDOR signature on the dial, with the horizontal bar of the T lengthened above the other letters. On some rare pieces, the name Rolex also appears. Rolex would effectively guarantee the technical and aesthetic quality of TUDOR watches until the brand attained autonomy in this field." So, the Rolex watch brand and the Tudor brand are intertwined from that point of origin. Pretty interesting, history, no? You can learn more about their history, here.
But beyond that feast of history, it's worth just admiring their current Tudor watches, here.  For 2016, one of the more intriguing watches is the 'Tudor Heritage Black Bay Bronze," which is a 43 mm. diver's watch inspired by Tudor history and fitted with a mechanical movement developed and produced in-house by TUDOR.  "The Heritage Black Bay Bronze features an imposing bronze case, 43 mm in diameter. An aesthetic reference to the use of bronze in historic ships and diving equipment, the choice of this metal — a high-performance aluminium bronze alloy with brushed finishes — lends a highly functional appearance to the watch and guarantees the development of a subtle and unique patina."  Learn more, here.
While Tudor originally depended on Rolex in the early days, nowadays the company has its own technology.  It's an up-and-coming innovative brand – something to watch, and for collectors, worth collecting. Often times, while Rolex is known as the #1 highest brand recognition in the luxury watch space, other brands find their niches and their fans. That's what's exciting about watches – it's not a monolith. People are passionate, and might have a collection of watches that's more than just one brand. Or, they collect watches with an eye to the history of them – be that their family history, or the history of the brand. As a relative newcomer to the space, Tudor is truly exciting brand to watch. Here's a quote on the TUDOR MOVEMENT which in 2015, they announced they are making in-house:
In 2015, TUDOR announced the first mechanical movement in its history to have been developed, manufactured and assembled in-house. A high-performance calibre of excellent precision and proven robustness, it offers a 70-hour power reserve meaning that its wearer can, for example, take off the watch on Friday evening and put it on again on Monday morning without having to wind it. Beating to a frequency of 28,800 beats/hour or 4Hz, the movement is regulated by a variable inertia oscillator with silicon balance spring, held in place by a traversing bridge – a guarantee of its robustness. Furthermore, the movement is certified by the Swiss Official Chronometer Testing Institute (COSC). (Source: https://www.tudorwatch.com/magazine/article/tudor-manufacture-movement). 
Repairing Swiss Watches in New York City
Of course, our passion for watches isn't just admiration, it's also repair. Like any object made by man, especially any object with moving parts, Swiss watches break down and need maintenance. That's where Ron Gordon Watch Repair comes in. Our convenient Midtown location makes it easy for busy New Yorkers to drop off their luxury Swiss watches that need repair. We can inspect and give a cost estimate once we actually have the watch in hand. We're known as the best watch repair shop in New York City, and we aim to stand up to that reputation: with a passion for Swiss watches such as Tudor and a passion for repairing Swiss watches of all brands. It's not either/or, after all – it's both/and.
---
Photo credit: mhankemann via Foter.com / CC BY