Watches are a dime a dozen, well, mainstream watches that is. Look around you. Nearly everyone has a watch of some type, though the Hipster crowd might be only using their iPhone. Among the most popular watches these days of course is the Apple Watch, which is the antithesis of the luxury watches that we repair here in our New York City watch shop. Apple Watches are a bit like the model T. They come in one color: black, though you can change the bands and a little bit of the exterior. But we love Apple watches (if you're into that), though we love uniqueness more. We love people who want to be unique, which isn't easy in New York City. It's a big city, with lots of people all trying to be stylish and be unique!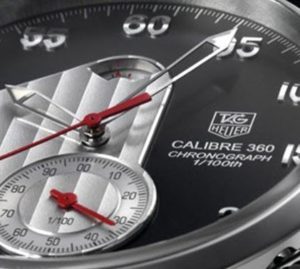 Which brings us to TAG Heuer, one of our favorite watch brands and one of the brands that we repair here in our Midtown Manhattan watch repair shop. The TAG brand is unique and it situates a person as a true lover of watches. So I'd like to focus your attention on just one TAG Heuer watch, the TAG Heuer Carrera Vanquish Calibre 360. Only 11 specimens of this concept watch were produced in 2005. They command high prices at auctions.
The TAG Heuer Carrerra Calibre 360
In 2005, TAG Heuer presented Carrera Calibre 360 concept watch, with the revolutionary mechanism inside the case. The Calibre 360 was the first mechanical chronograph to count time with 1/100th second accuracy. Besides the fact that just a chronograph module had been developed in-house and mated to an ETA base (TAG Heuer Calibre 7) movement, the Calibre 360 was the milestone for the Swiss watchmaker that tried to rebuild the reputation of the movement maker. TAG Heuer had not spent much time until it started producing watches with this breakthrough mechanism. It is almost unknown that the Swiss watchmaker firstly released a very rare line (11 pieces) of so called, Vanquish Calibre 360 Chronograph, in 2005. Besides the great importance for the Swiss brand, the Calibre 360 has also deserved a very important place in the history of watchmaking. This mechanical movement beats with two hearts (2 series of entirely separated escapement mechanisms) – ETA base and TAG Heuer's chrono module. This chronograph that works independently of watch functions, incorporates a high frequency balance wheel (50 Hz), oscillating with 360,000 vibrations per hour (hence the name), which is 10 times faster than the El Primero movement.
The Calibre 360 has two cylinders that provide the separated storages of power for the chronograph (100-minute power reserve) and for the watch (42-hour power reserve). To supply barrels with power, the wearer needs to wind the crown manually, turning it clockwise to wind the chronograph movement, or anti-clockwise to wind the watch movement. In order to achieve the incredible precision, TAG Heuer's engineers used 230 separate pieces, and an ultra light, miniaturized escapement mechanism and a spiral (the diameter of which is less than 26 % of a regular balance wheel). You can read more about the Calibre 360 on the TAG Heuer site, here.
The Uniqueness of TAG Heuer
TAG is a unique brand when it comes to watches, and not just because of incredibly unique watches such as the Carrera Calibre 360 concept watch or the production watch of the same name. It's unique because most people just wear a watch of some type (an Apple watch, a Timex, or a store brand), and a few really get a passion for watches (wearing perhaps a Rolex, the most well-known luxury watch brand and a great brand in its own right). And then there are the people that get into some of the less well known brands like TAG Heuer, Hamilton, or Omega. And then there are those that drill down into a brand they love and find one of the watches like the Calibre 360 which really expresses uniqueness and a passion for everything watch. It's like fine wines or fine automobiles. There are people that "get it" and when you meet them you can share your passion. We love that about the TAG Heuer brand. It's full of passionate people who "get it" and "love everything TAG."
Being the Unique Place in New York City to Repair a TAG Heuer Watch
In fact, we're unique, too. While there are many watch repair shops in New York City and even quite a few watch repair shops near us here in Midtown, we're unique in that we repair the key luxury brands like Rolex, TAG Heuer, Breitling and others. Ron Gordon Watch Repair has a reputation as the best place in NYC to get a TAG Heuer repaired, and we bring a unique combination of passion for all types of watches plus a commitment to excellence at being the best place to get a TAG Heuer (or other Swiss watch) repaired in New York City. Call the shop today if you have  TAG Heuer and bring it in for a tune up or repair.