New York, NY – July 25, 2019. Ron Gordon Watch Repair, New York City's TAG Heuer watch repair service with a convenient Midtown location, is proud to announce a new post on the extended 50th anniversary celebration of the TAG Heuer Monaco, specifically the third of five limited editions of the watch.The post overviews the celebrations held at New York City's own Cipriani Wall Street, the glamor of the celebrity set who attended the gala, and – most importantly – a focus on the technical details of the watch. TAG Heuer remains one of the most popular luxury watch brands in New York, and is consistently one of the most common watches brought in to Ron Gordon Watch Repair for tune ups and repairs.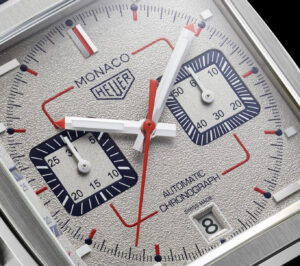 "TAG Heuer is one of our favorite brands because of its long history and its association with Steve McQueen, masculine virtue, and high-speed roadracing," explained Ron Gordon, proprietor of Ron Gordon Watch Repair. "In our post we go over the gala held at Cipriani Wall Street as well as have pointers to articles on the new watch and links to the official TAG Heuer Website. We're very excited about these new limited editions, because they build the brand and get people who own TAGs excited enough to bring them into the watch repair shop for tune ups and repairs."
To read the new blog post, visit https://www.rongordonwatches.com/2019/07/monaco/.  The post explains that the third limited-edition honors the decade of the 1990s with a steely industrial appearance. The boxy, metallic blue and red watch honors the city of Monaco and, of course, the road race that has given it so much fame. Glamour was on the line at the event with celebrity "brand ambassadors" such as Patrick Dempsey as well as other celebs such as Paulina Vega and Olivia Cuplo at the event. Of course the celeb most associated with TAG Heuer's Monaco was Steve McQueen, whose 1971 movie, Le Mans, focused on the 24 hour Le Mans race. The Le Mans, of course, is the world's oldest active sports car race held annually since 1923 and is called the "Grand Prix of Endurance and Efficiency." Even better, the post then obviates a need for any discussion of the rich and famous and instead asks the reader to focus on whether a) he or she owns a TAG Heuer, and if so, then b) whether they can bring it in to Ron Gordon Watch Repair for inspection, tune up, and possible repair. There is no great tragedy than a non-functional TAG Heuer that just sits in a drawer rather than being on someone's arm in New York City.
TAG HEUER REPAIR IN NEW YORK CITY
Located in Midtown, Ron Gordon Watch Repair specializes in the repair of luxury watches including key brands such as Rolex and TAG Heuer. For that reason, any person who owns a TAG Heuer in any condition is encouraged to bring that watch in for inspection and possible repair.  Often times, only minimal repairs are needed and the happy user can be on his or her way with a functioning and tuned-up TAG Heuer. Other times, repairs are needed and Ron Gordon knows exactly what to do and how to do it to quickly get a TAG Heuer back up to functionality. By sharing TAG Heuer news on the blog, Ron is hoping to increase awareness of this storied watch brand and get folks to come in for a TAG Heuer tuneup. Persons who are new to the brand or want to browse available TAG Heuer watches can visit https://www.tagheuer.com/en-us/watches/monaco.
ABOUT RON GORDON WATCH REPAIR

Ron Gordon Watch Repair is conveniently located at 280 Madison Avenue at 40th Street in Midtown Manhattan, New York City. The company specializes in the service and repair of high quality, luxury, watches, both modern and vintage, and repairs watches for those who wear the very best brands. The expert and namesake is Ron Gordon.
Contact:
Ron Gordon Watch Repair
Tel. 212-896-8999
Web. https://www.rongordonwatches.com/