We see a lot of Rolex watches here at Ron Gordon Watch Repair. As a matter of fact, we love the Rolex brand not just because of its beauty but because of its versatility. While many people think of Rolex as a good-looking "luxury" watch (which it is), they may not be aware of its storied history as a brand used in sports such as automobile racing. Nor may people know that the "chronograph" concept has a long history at Rolex.  Vintage Rolex watches are collectibles, after all. A "chronograph," of course, refers to a specific type of watch that can be used as a stopwatch as well as having the more usual display features.  When time is of the essence, as in automobile racing, then people want to "time" things. Such usages compelled Rolex to enter the chronograph market albeit with mixed success at the beginning.
For most of the history of the Rolex brand, chronographs were decidedly less important vs. three-handed models. The first introduction by Rolex of an Oyster-cased chronograph occurred during World War II, but that watch did not do well. The real breakthrough occurred in 1963 when Rolex introduced the "Daytona." Ironically, neither "chronograph" nor "Daytona" appeared on the dial, though that nickname continued. Rolex produced only about five hundred of these watches until 1961. Nowadays, however, if you have one of these early Rolex chronographs, you're in luck. They sell for anywhere north of $20,000. We see them from time to time, as people bring in Rolex watches for repair. (We're known of course as the best place in New York City to secure repair and service for your Rolex watch).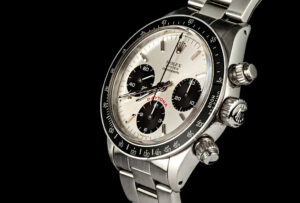 Rolex Watches and Automobile Racing
Back to our story. The first automobile races were organized at Daytona Florida in 1902. As early as the 1930s, some of the racers were reaching out to Rolex and giving accolades to its Oyster watches. The second big development was when movie star Paul Newman got involved with Daytona and then with Rolex. Rolex first served as Daytona's official timekeeper in 1962, one year before the debut of its Cosmograph Reference 6239. This model became nicknamed the "Daytona," and it really caught on with the Rolex fan base. Paul Newman, after all, wasn't only a famous actor. He was a famous car racer in his own right. And the watch began to be nicknamed the "Paul Newman." These watches can change hands for $100,000 nowadays.
Subsequent to this break-out success, Rolex really began to enter the car racing world in earnest and to deploy various models of the Daytona year after year. Nothing succeeds like success, and the success of the Rolex Daytona is proof of that fact. There's an 1988 Rolex Daytona, and a 2000 Rolex Daytona, for instance. To be specific, Rolex replaced Caliber 4030 with the in-house Caliber 4130, meaning that all the brand's movements were now made by Rolex itself. Demand for sporty chronographs took off at this time. Waits of up to three years were not unusual for would-be Daytona buyers. Rolex continued to offer the models in all steel and all yellow gold, which were later joined by steel- and-gold and white- and rose-gold variations. With prices starting at about $6,000, steel-and-gold models from the late 1980s and afterwards are now the least costly Daytonas on the used-watch market. All-steel models in good condition are somewhat more expensive: their prices start at around $7,000. Here, too, caution is in order. Accompanying papers and an original box increases the watch's value, but cannot guarantee its genuineness because these accessories, too, are often skillfully counterfeited.
Recent years have seen new models of the Rolex Daytona as the story continues. For example, in 2012, Rolex introduced the Daytona International Speedway to celebrate fifty years of timing races at the Daytona International Speedway. In summary, you may think of Rolex as a purely stylish and luxury watch brand, which it certainly is. But it's also an "athletic" brand, one that is intertwined with the history of car racing in our country, not just at Daytona but elsewhere.
Getting a Vintage Rolex Repair Done in New York, NY
If you own any of these vintage Rolex watches, you should get them inspected and repaired. There is no greater tragedy than to have one of these world-class Rolex watches and let it languish in a drawer because it's not working. Bring your Rolex into Ron Gordon Watch Repair and we'll inspect and repair it. After all, we're known as the best Rolex watch repair shop in Midtown New York City.